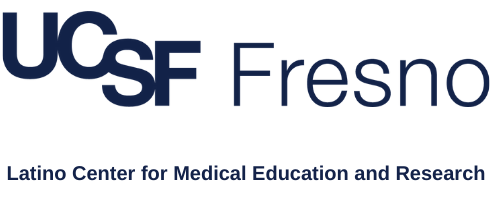 Our Organization
UCSF Fresno focused on improving health in the San Joaquin Valley and Central California through teaching, patient care, research and community partnerships.
The mission of the UCSF Fresno Latino Center for Medical Education and Research is to nurture the development of individuals to become health care professionals who will ultimately return to the San Joaquin Valley and provide culturally competent health care services to the medically underserved.
Junior Doctors Academy
Etiam mi lacinia donec ridiculus condimentum ullamcorper tortor etiam gravida bibendum mollis ullamcorper porttitor dignissim id litora vestibulum purus porttitor blandit cubilia scelerisque parturient.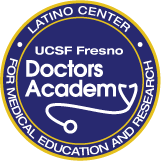 Doctors Academy
The Doctors Academy programs operates as a partnership with Fresno Unified and Caruthers Unified School Districts 
Must meet eligibility requirements to apply.
Services
Academic Counseling and Support Services
Academic SupportDescription
Health Professional Guest Speakers
To enhance the health career exploration experience, guest speakers from all specialties are invited to share during the scheduled class sessions or at our annual conference. Speakers have been from allied health, community organizations, doctors and surgeons with varied backgrounds
Study trips to universities, colleges, and healthcare facilities are provided throughout the year to expose students to opportunities and programs available in California.
This research course is for students in their juior year during the spring semester. Students engage and participate in lectures, activities and assignments to introduce them to APA style medical research and to enhance the students' knowledge and critical analysis of health disparities, health politics, and global health. The culminating project is a research paper and presentation during the annual Research Symposium held in July.
DA Summer Health Career Mentorship
This 5-week experience occurs the summer between their junior and senior year of high school, students are matched with a health professional for mentoring and shadowing. This experience also includes workshops and guest speakers to do in-depth study of health professional careers, college readiness, social justice, and developing hands-on skills.
This 2-week program for students entering eighth grade focuses on STEM education.
College and Career Readiness
All grades participate in the following:
Health Professions Workshops to learn about the various career options in healthcare
Aspiring Scholar Workshops to exercise good study habits, professionalism and self advocacy
Medical Topics and Cultural Competency curriculum
PSAT/SAT Preparation (high school only)
 
All incoming freshman are guided through and in-depth look at the services available to them and curriculum of the program.